This is a Waiting on Wednesday post which is hosted on Breaking the Spine. If you want to join the fun, click here.
The Veil by Chloe Neill
Release Date: August 4, 2015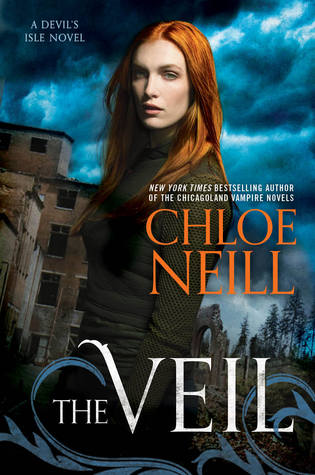 Synopsis
Seven years ago, the Veil that separates humanity from what lies beyond was torn apart, and New Orleans was engulfed in a supernatural war. Now, those with paranormal powers have been confined in a walled community that humans call the District. Those who live there call it Devil's Isle.
Claire Connolly is a good girl with a dangerous secret: she's a Sensitive, a human endowed with magic that seeped through the Veil. Claire knows that revealing her skills would mean being confined to Devil's Isle. Unfortunately, hiding her power has left her untrained and unfocused.
Liam Quinn knows from experience that magic makes monsters of the weak, and he has no time for a Sensitive with no control of her own strength. But when he sees Claire using her powers to save a human under attack—in full view of the French Quarter—Liam decides to bring her to Devil's Isle and the teacher she needs, even though getting her out of his way isn't the same as keeping her out of his head.
But when the Veil threatens to shatter completely, Claire and Liam must work together to stop it, or else New Orleans will burn…
I'm a fantasy girl through and through. Magic, special powers, and fighting (especially sword fighting. do you think there will be some of that here?) are my thing. Reading the synopsis I feel like this world is dystopian but kinda post-apocalyptic in a way???? I also like kickass female characters and this Claire person is obviously kickass because hello she uses her powers in front of everyone to save a human. YEAH GIRL I LIKE YOU ALREADY. And Liam doesn't sound too bad himself 😉
Thank God this book is close to being released. I really really really want it.
What book are you waiting-on-wednesday this week?