This is a Waiting on Wednesday post which is hosted on Breaking the Spine. If you want to join the fun, click here.
First & Then by Emma Mills
Release Date: October 13, 2015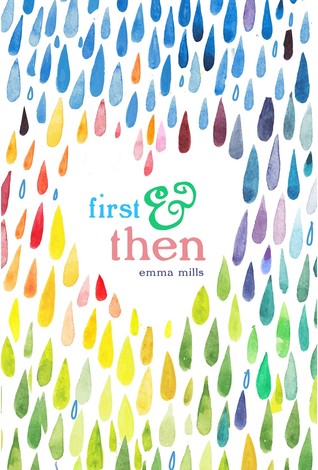 Devon Tennyson wouldn't change a thing. She's happy watching Friday night games from the bleachers, silently crushing on best friend Cas, and blissfully ignoring the future after high school. But the universe has other plans. It delivers Devon's cousin Foster, an unrepentant social outlier with a surprising talent for football, and the obnoxiously superior and maddeningly attractive star running back, Ezra, right where she doesn't want them first into her P.E. class and then into every other aspect of her life.
Pride and Prejudice meets Friday Night Lights in this contemporary novel about falling in love with the unexpected boy, with a new brother, and with yourself.
I don't like Pride and Prejudice. Okay wait that's not the right way of saying it. I do like Pride and Prejudice. It's the book that I don't like. I have no patience to read the story. I watched the Lizzie Bennet Diaries twice, the movie starring Keira Knightly (going to watch the one with Colin Firth soon) god knows haw many times,  but the book itself is just…ugh. Like I tried. I really did. Before I traveled I got the audio book to listen to while on the plane. But nope. I didn't finish it. It's ironic though, that I always read books inspired by P&P and once I even read a retelling. Yeah I don't know what is wrong with me, either. SO this book was pitched as Pride and Prejudice meets Friday Night Lights.Though I have no idea what Friday Night Lights is, the Pride & Prejudice part hooked me and this book ended up in my tbr.
I love obnoxious guys. I don't like them for myself but I don't mind them for my heroines 😉 Ezra sounds like a total Babe with a capital B. Will he be like Mista Dahrcyyyyy??? And what about Foster? Will he be a love interest?? or is he the "new brother"? Cousins getting together isn't considered incest where I come from and I was surprised when I knew it is in the US. Where is this book set? Oh well. Only reading the book will explain everything 🙂  Foster also plays football (is this soccer football or american football??). Football=sports=abs
Do you think we'll get to see Foster shirtless?
Are you weirded out by my obsession with abs?
Moving Along.
Let's talk about the cover for a sec. It is so gorgeous it's not even real. I try not let myself be attracted to books because of their covers but sometimes it just.doesnt.work.  Are those raindrops? Are those trees? Who freaking cares. LOOK AT THOSE COLORS. JUST. LOOK. AT. THEM. I want to hug this book to me and to freaking pet it every five seconds. Can you imagine how beautiful a hardback of this book would be???????
I NEED THIS BOOK RN. RN. RN. RN
what book are you waiting on this wednesday?