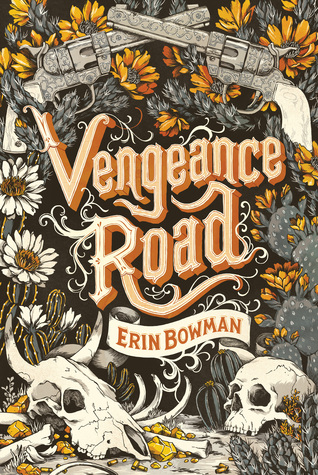 Title: Vengeance Road
Author: Erin Bowman
Publication Date: September 1st, 2015
Format: E-book
Revenge is worth its weight in gold.
When her father is murdered for a journal revealing the location of a hidden gold mine, eighteen-year-old Kate Thompson disguises herself as a boy and takes to the gritty plains looking for answers—and justice. What she finds are untrustworthy strangers, endless dust and heat, and a surprising band of allies, among them a young Apache girl and a pair of stubborn brothers who refuse to quit riding in her shadow. But as Kate gets closer to the secrets about her family, a startling truth becomes clear: some men will stop at nothing to get their hands on gold, and Kate's quest for revenge may prove fatal.

Thoughts
I really hated writing this review. This book was easily one of my most anticipated books for this year and unfortunately it didn't live up to my expectations. People on twitter were praising it and calling it their favorite book of 2015 and I was terribly disheartened when I started reading it and that spark was missing. It was Anna and the French Kiss all over again; everyone and their mother likes the book except me. Unlike Anna and the French Kiss though, this book actually had some redeeming qualities.
Like its cover, for example. I'd buy the physical copy just to display the cover. No joke.
Another redeeming quality is the beautiful writing. Bowman's writing style is amazing and it makes me want to read her other books despite not finishing this one.
Pa told me that nearly every battle people face is in their heads. If you think you can't do something, you won't. If you believe you can, it's only a matter of time before you will.
This book is written in Western dialect. Usually, I get annoyed when authors attempt to write in dialects because it sounds forced and fake and unintelligible. But this wasn't the case here. The accents only added to the charm of the book and made it more believable, more authentic.
But without Pa's words, there's too much nothing—too much sky and space and endless parched land.
However, and this is in the negative column for this book, perhaps even the top one there, that beginning was so bad it ruined the book for me. Yes I get that Bowman wanted to start the book with a bang but I think that the father getting killed off on the first page was a wrong decision. I didn't get to know the father. I didn't get to know how he's like. I didn't even get to see him. So excuse me for finding it hard to want the justice for him as much as Kate did. I simply didn't care if she killed those men who murdered him. I'm not sure that this came off right and I feel that it made me appear heartless but that was how I felt. And that's really, really bad. Because this whole book is about her journey to get revenge. And if I didn't care about that, then what's the use of reading the book? What made it even worse was the I didn't know Kate well either.
Character Analysis
Kate
Kickass lady right here.
"That sounds real nice, boy," he says. "Now for the love of God, lower that damn pistol."

"All right," I says.

And I do.

Right after I shoot him through the skull.
Damn. Every time I read those couple of sentences my blood boils. Kate wants her revenge so bad that for the amount of time you are actively reading, you get to experience her blood lust. But the minute you close the book, poof, it's gone. You're back into that not caring state because Kate's feelings no longer mean anything to you.
I cheered for her when she was kicking ass…
"See you in hell, mister."

And that's where I'm going, sure as the sun will rise, 'cus I feel nothing. No remorse. No guilt. Not even a sliver of doubt. He deserved it, and I'd do it again. I'd do it over and over, and I wonder if something's wrong with me.
…but I got bored when her and her friends were camping or travelling or whatever. Usually when they were camping/travelling I'd close the book, and then later on have a hard time coming back to it.
What I liked the most about Kate is her beautiful way of thinking. It's poetic and so full of feelings that you can't help but get that dreaded lump in your throat whenever she's speculating and observing something.
How can a man who's done so much evil have eyes the color of heaven? They should be dark and soiled. They should be rotten.
Jesse
Jesse was another reason for me not liking the book. I didn't like him. There was no chemistry between him and Kate and I didn't find that weird because he was boring and bland.
Bottom Line
If you would've asked me before writing this review if I'm am I going to pick this up again, I would have told you No without hesitation. But now, after writing and proofreading this, I think I will. Perhaps there is hope for me after all.
Recommended to: Those who like seriously, seriously kickass female leads and cowboys and basically anything Western. And those who don't really care if they get to know the characters properly or not.