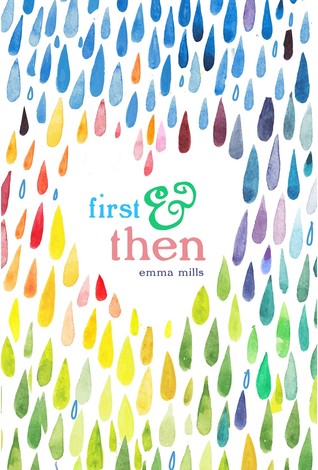 Title: First & Then
Author: Emma Mills
Publication Date:  October 13th, 2015
Format: E-Book
Devon Tennyson wouldn't change a thing. She's happy watching Friday night games from the bleachers, silently crushing on best friend Cas, and blissfully ignoring the future after high school. But the universe has other plans. It delivers Devon's cousin Foster, an unrepentant social outlier with a surprising talent for football, and the obnoxiously superior and maddeningly attractive star running back, Ezra, right where she doesn't want them first into her P.E. class and then into every other aspect of her life.
Pride and Prejudice meets Friday Night Lights in this contemporary novel about falling in love with the unexpected boy, with a new brother, and with yourself.
★★★★☆
Thoughts
Sometimes you read a book and it fills you with butterflies, and sunshine, and smiles. Sometimes after you finish said book, you hug it to your chest and hum a short lullaby, and in that instant everything is right in the world. This book was like that for me. It was cute and adorable yet it made me think and reflect and I enjoyed every.second.of.it.
I wanted to give this book five stars. I wanted to do that so bad. But I couldn't. The end was a bit anticlimactic. I mean, Devon once complained that what she disliked in Austen's books is that they always ended before we can see the couple together, but for some reason this book also ended the same way??? There were many things left unknown as well. What did Devon decide to do uni-wise? Who was the father of Marabelle's baby? Another thing was that we don't know how any of the characters look like. Devon never described how anyone looks like, including herself. Maybe P&P was that way too? (yes, before you shoot me, I haven't read P&P. In fact, I haven't read any of Austen's books. I tried reading P&P. I did. I honestly did. But I couldn't finish it. Idk why.)
Character Analysis
Devon
Devon really reminded me of myself. I connected with her on so many levels that sometimes while I was reading this book I was convinced that Mills has written this book specifically for me. That she had somehow peered into the depths of my heart and wrote this book about what she found there. Devon was judgmental, fast to believe the worst in people, all snark, and, simply, didn't care enough about anything to put in an effort. She cruised in life, not going up or down or against the current. She was a carbon copy of me. Or, to be more accurate, who I used to be not too long ago. I'll admit, seeing her like this made me really glad that I had worked so hard to change myself and I was so bloody proud of Devon for changing too.
Devon not only went from being lost to knowing what she wants in her future, but she also learnt to love Foster and to care for him as if he really were her brother.
I loved how friendly she was with everyone. I was (and still am) like that and it was great because YESSS WE HAVE SOMETHING GOOD IN COMMON NOW. And don't even get me started on her relationship with Jordan. They have the most adorable friendship ever ever. Can I have a friend like that?
Ezra
Oh Ezra. How I love thee. You are so cute and adorable and swoonworthy and sweet. And athletic. Bet you have some sexy abs under that shirt of yours.
No but seriously.
Ezra was the definition of perfection. He was a little bit shy, but so, so, so adorable and I wanted to squish his cheeks on more than one occasion.
"You liked me since that first gym class?"

He nodded. "Since I said 'get a ball' and you said 'get it yourself.'"
also, also, also, and this is huge huge huge also, he read BOTH Pride and Prejudice AND Sense and Sensibility just so he could have something to talk to Devon about. IF THAT ISN'T CUTE THEN I DON'T KNOW WHAT IS.
AND THEN HE DROPPED THIS BOMBSHELL
"I don't know how to talk like they do," Ezra continued after a moment. "But…I feel about you the way they feel in those books. The way those guys feel about those girls that they don't always deserve."
EXCUSE ME WHILE I GO GIGGLE AND SQUEAL IN MY PILLOW.
Bottom Line
Some people said that this book was trying too hard to be many things. And that is true if you think of it as a book that tells you how Devon and Ezra got together. But this book is much more than that. This book is about an important PERIOD in Devon's life, not an incident or something that passed quickly. No, this book is literally about the turning point in her life. She was at a forked road and this book is about her choosing one of those lanes.
I really loved this book. It came exactly when I needed it and it did not let me down. I'm going to buy a physical copy and then I'm going to reread it over and over again.
Recommended to: Those who want the feels.