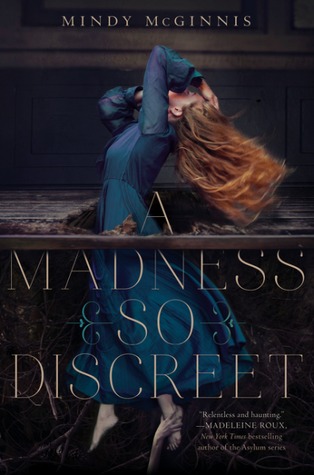 Title: A Madness So Discreet
Author: Mindy McGinnis
Publication Date: October 6th, 2015
Format: E-Book
 Grace Mae knows madness.
She keeps it locked away, along with her voice, trapped deep inside a brilliant mind that cannot forget horrific family secrets. Those secrets, along with the bulge in her belly, land her in a Boston insane asylum.
When her voice returns in a burst of violence, Grace is banished to the dark cellars, where her mind is discovered by a visiting doctor who dabbles in the new study of criminal psychology. With her keen eyes and sharp memory, Grace will make the perfect assistant at crime scenes. Escaping from Boston to the safety of an ethical Ohio asylum, Grace finds friendship and hope, hints of a life she should have had. But gruesome nights bring Grace and the doctor into the circle of a killer who stalks young women. Grace, continuing to operate under the cloak of madness, must hunt a murderer while she confronts the demons in her own past.
In this beautifully twisted historical thriller, Mindy McGinnis, acclaimed author of Not a Drop to Drink and In a Handful of Dust, explores the fine line between sanity and insanity, good and evil—and the madness that exists in all of us.

Thoughts
Why oh why does this always happen to me? I'm extremely excited for a book, I get it, I start reading it, and it just.does.not.live.up.to.the.hype.it's.been.getting.
WHY
WHY
BOOK, WHO GAVE YOU THE RIGHT TO NOT LIVE UP TO MY UNFAIRLY HIGH EXPECTATIONS
???????
ANYWAY
So the cover was what first attracted me to this book. It's slightly creepy and it showed how Grace was tormented and held captive by her nightmares and demons and I loved that. It suited the synopsis of the book and now that I've read it, I still agree that it suits the book because Grace really does carry her demons with her and they really are there beneath the surface, smothering and tying her down. It's also connected with the title so that's great too.
The cover was also pretty much the only thing I liked about this book.
A Madness So Discreet had a lot of potential to be better than this. McGinnis's other series, Not a Drop to Drink, is wildly popular and it's been on my TBR wayyyy before knowing about this book (it's also going to stay there because of all the good things I've heard about it. Hopefully that one will deliver.)
This book was boring and overdrawn. Chapters upon chapters of everyday life where nothing happens are boring and authors need to know that. PLEASE don't add empty chapters in order to make the book longer.You could have easily cut 80 pages and it wouldn't have mattered. The middle was so slow that I dropped it, and picked up (and finished) other books. I wasn't sure I was going to get back to it but I did because I didn't want to add another book to my DNF list and because weirdly, sometimes I enjoyed some scenes (mostly of Grace and the doctor bantering. More on that later.)
The writing felt iffy and cutoff. Writing style is on the top of my What Makes a Great Book list and this book failed miserably in that aspect.
One thing I really loved though, was the friendship. Grace makes awesome friends and I loved reading their interactions with each other. We rarely see great friendships in historical books because there is usually the status difference or because of conflicting interests between the main character and the said friend.
Character Analysis
Grace
I sympathized with Grace but I didn't like her. She was raped by her father, kicked out of her house when she got pregnant, and put in a mental asylum. I wouldn't be human if I didn't sympathize, but that was it. I didn't like her or care to see what happened with her.
I'm really confused about how to feel about the baby. I wrote part of this review some time ago and as I was reading over what I wrote to see what gaps I'll have to fill, I came across this part.
I hated that she lost her baby. Did that have to happen? And it wasn't like Grace was devastated when she did. I mean, she did get really mad for a bit but then she never thought of it again.
This is what's confusing me. Should I be thinking "What the hell, J, this baby would have been her sibling?????? and she didn't even want it in the first place?????" Or should I be wondering if she had some sort of motherly instincts towards it? In the beginning, and before she met Thronhollow, Grace had cut off her feelings. So there was no insight about her feelings towards the baby. That gets me to my next point. Why did Grace have to lose the baby? Would the story be more interesting if she had a baby to care for? Would the new asylum have left the baby with her? Would she WANT to care for it?
Another thing was that sometimes I just didn't get Grace's place in solving the mystery. What does she do exactly? Think about the facts with Thornhollow? Did you notice how many questions I'm asking in this book review?
Thornhollow
Probably my favorite character. I liked how he cared for Grace and how he showed her kindness in the most unexpected of ways.
"Alice is important to you, which makes her important to me."
I loved the scenes of his bickering with Grace. They would throw theories and assumptions at each other and I had fun watching them do that. The act of their bickering alone showed that the doctor valued Grace's opinion enough to banter with her. I imagine he's the type to brush people off if he didn't care enough about them but he never did that with Grace. And by the end of the book, they were really started getting each other. Grace knew when he was getting annoyed and Thornhollow knew what Grace was thinking and calmed her down.
Bottom Line
I enjoyed some aspects of this book, like the friendship and the banter between Grace and Thornhollow but over all it was a very meh read that I wish I hadn't wasted my time reading.
Recommended to: no one really