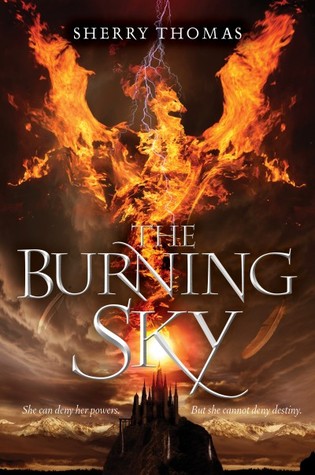 Title: The Burning Sky
Author: Sherry Thomas
Publication Date: September 17th, 2013
Format: E-Book
 It all began with a ruined elixir and a bolt of lightning.
Iolanthe Seabourne is the greatest elemental mage of her generation—or so she's been told. The one prophesied for years to be the savior of The Realm. It is her duty and destiny to face and defeat the Bane, the most powerful tyrant and mage the world has ever known. This would be a suicide task for anyone, let alone a reluctant sixteen-year-old girl with no training.
Guided by his mother's visions and committed to avenging his family, Prince Titus has sworn to protect Iolanthe even as he prepares her for their battle with the Bane. But he makes the terrifying mistake of falling in love with the girl who should have been only a means to an end. Now, with the servants of the tyrant closing in, Titus must choose between his mission—and her life.
The Burning Sky—the first book in the Elemental Trilogy—is an electrifying and unforgettable novel of intrigue and adventure.

Thoughts
It's been a while since I read such a compelling fantasy book. If you(ve) check(ed) my wrap-up post for last month, you'll see that most of the books I read in October were contemporary, and as I was reading this book, I was strongly hit with why I love fantasy books so much. The excitement and the bubbling-in-the-stomach feeling were real, you guys. I was ridiculously happy. My whole body was positively humming.
It made me so excited to pick up fantasy books again 😀 😀
Now, I love magic in general but elemental magic has a very special place in my magic/fantasy-loving heart and this book has plenty of it. I want to read more books that have elemental magic. Do you have any recommendations? If you do, please, please, hit me (not literally please) up with them in the comments section below.
Everyone on GoodReads was saying that this book was slow and that it was hard to get into it in the beginning bla bla bla. Literally everyone was saying that so I went into this book expecting to be bored out of mind for the first few chapters. But I didn't find it that way that at all. I loved it from the first page. You know that feeling when you are like "Yep this is it. This book is going to be effing awesome. I can feel it."?? That's how it was for me. I read the first page and booyaaa SO.MUCH.EXCITE.
It didn't hurt that Iolanthe called down lightning pretty fast too 😉
Her hand trembled as she raised the wand to point it directly overhead. She inhaled as deeply as she could.

"Smite that cauldron, will you? I haven't got all day!"
Like, yeaaahhh! Effing brilliant isn't it?
The world was, simply put, fucking brilliant. It was so well built and the details and the magic and the creatures and the dragons, the dragons were effing brilliant and omg I love dragons so much #ibelieveindragons and oh god I WANT MORE OF THIS WORLD BOOK TWO HERE I COMEEEEEE PLS LET BOOK TWO HAVE DRAGONS
#deepbreath
I loved the dual point of view. Which I usually don't like because I find that when a book has more than one point of view, the other characters' voices don't sound right. The only exception I found was The Lunar Chronicles by Marissa Meyer. Meyer has a minimum of 3-4 povs per book but somehow it works out?? You would be following one story and you'd be totally invested in it and then she switches pov but you don't say "oh why I wanted to know what will happen with the other character" because you are so bloody invested in ALL the characters. But I digress. The dual pov here worked really well and both Iolanthe and Titus had their own unique voice and neither sounded fake or pulled out.
Character Analysis
Iolanthe
Iolanthe is a beast. Not really, she's human but I mean that she's so strong. Not only magically, but also personally. She is sassy and confident and takes no shit from anyone. YOU GO GIRL.
I love how she went from this person who didn't exactly believe in her powers into someone who is confident and is ready to do anything to get what she wants.
Titus
I SWOON.
I.S.W.O.O.N.
Not only was Titus this completely gorgeous specimen, a powerful magic user, but he was also so supportive of Iolanthe. It was lovely seeing how much he believed in her and her powers. He played a role in her gained confidence and I think that that's very important. Partners should support each other instead of one trying to dominate the relationship.
Bottom Line
COMPLETELY ADORED THIS BOOK. THE MINUTE I FINISH WINTER I'M PICKING UP BOOK TWO.
Recommended to: To those who love fantasy books and really awesome female characters who are p-o-w-e-r-f-u-l  and for those who want a really swoonworthy male lead.